Join Us!

Epic Battles!

Fun Environment!

Rise in the Ranks!

Join Us!
On behalf of myself and my fleet, The Weekend Warriors, I'd like to thank everyone who made our event such a success. We set a goal of $500 dollars and we raised over $1,000 dollars for The Hospital for Sick Children in Toronto, Canada.
The support from the gaming community was outstanding. Thank you to everyone who donated. Thank you to everyone who also jumped in and played with us during the event. To everyone who watched. To everyone who returned at various times to watch. You all played an important part in our success and an important part for Sick Kids Hospital.
I sent a personal thank you to Mike Fatum and the Cryptic Studios staff for the generosity regarding the giveaway prizes. For those who won these prizes, I'll be sending the contact info to them this week. If I need any further info from you, I'll contact you through Twitch.
Our fleet takes great pride in telling people we are a family. I saw amazing support not only from our members, but the gaming community, the Star Trek community and the Star Trek Online community, and the members of The Weekend Warriors Ps4 fleet consider you all part of our family.
Thank you once again. It will not be forgotten.
Dave
Fleet Admiral, Weekend Warriors Ps4
twitch.tv/weekendwarriorsfleet

On Sunday May 7th, 2017 at 5pm EST we are running a 24 Hour Live Charity Stream Event. 100% of the donated proceeds go to Extra Life in support of The Hospital for Sick Children located in Toronto, Canada
WHAT IS EXTRA LIFE AND WHY SICK KIDS HOSPITAL?

Extra Life is a registered charity and was founded in 2008 by gamers. Since it's inception, Extra Life has raised more than $30million dollars for local Children's Network Hospitals. Board gamers, video gamers, mobile platform gamers, they all raise funds just by playing any game or games for 24 hours. The hospital we have chosen to support and raise funds for is The Hospital for Sick Children in Toronto. Why? Well, our fleet admiral was a patient of Sick Kids from the ages of 4-12 after being diagnosed with Legg Perthes disease. This disease limits the amount of blood flowing to the femur bone head, eventually deteriorating it. This lead to his double hip replacement at the age of 29. We also have members who's children have been patients as well. It's time to give something back and we are asking for your support.
HOW CAN YOU HELP?

1) Donation: The bare bones of any fundraiser. Our donation page is listed below. Donations can be made via Paypal or Credit Card and are 100% safe and secure and you will receive a tax receipt from Extra Life. Yes, it's a registered charity so it's tax deductible. **All donations immediately go to Extra Life and Sick Kids, our members see absolutely nothing of it and the only thing we gain is supporting Sick Kids Hospital.** You can choose a pre-selected amount or set your own. No amount is too little. Just choose any team member from the Roster tab to make a donation.

2) You can watch our live stream event on May 7th. And no, you don't have to watch for the entire 24 hours. The link to our live stream is https://www.twitch.tv/weekendwarriorsfleet

3) If you have a Playstation 4 system, you can jump in and play with us during the event for a 30 minute session, even if you choose not to donate. We will have a queue system in place and details of how to queue up to play with us will be made available during the event .'Star Trek Online' is a free game and even if you don't know how to play it, it won't matter. It's about raising money for the kids! We will help you during the event if you choose to jump in. We only ask that you download the game onto your Playstation 4 ahead of time so you can maximize your time with us.
GIVEAWAY PRIZES DONATED BY CRYPTIC STUDIOS:
- 1 signed poster by the entire Star Trek Online Development Team
- 3 Wizkids Attack Wing Ships (1 Nebula Class, 1 Klingon Bird of Prey, 1 Ferengi Nagus class. None of these have codes, they're just the cool models.
- 3 STO (PC only) TOS Bridge Officer Codes

Please support our team in this wonderful event. If nothing else, you can tune into the stream at various times over the 24 hour period to see our progress and our team leader in full Star Trek uniform!!

To Donate: https://www.extra-life.org/team/weekendwarriors
Sick Kids Foundation: http://www.sickkidsfoundation.com
Our Fleet Website: www.weekendwarriors-fleet.com
Twitch Stream Location: https://www.twitch.tv/weekendwarriorsfleet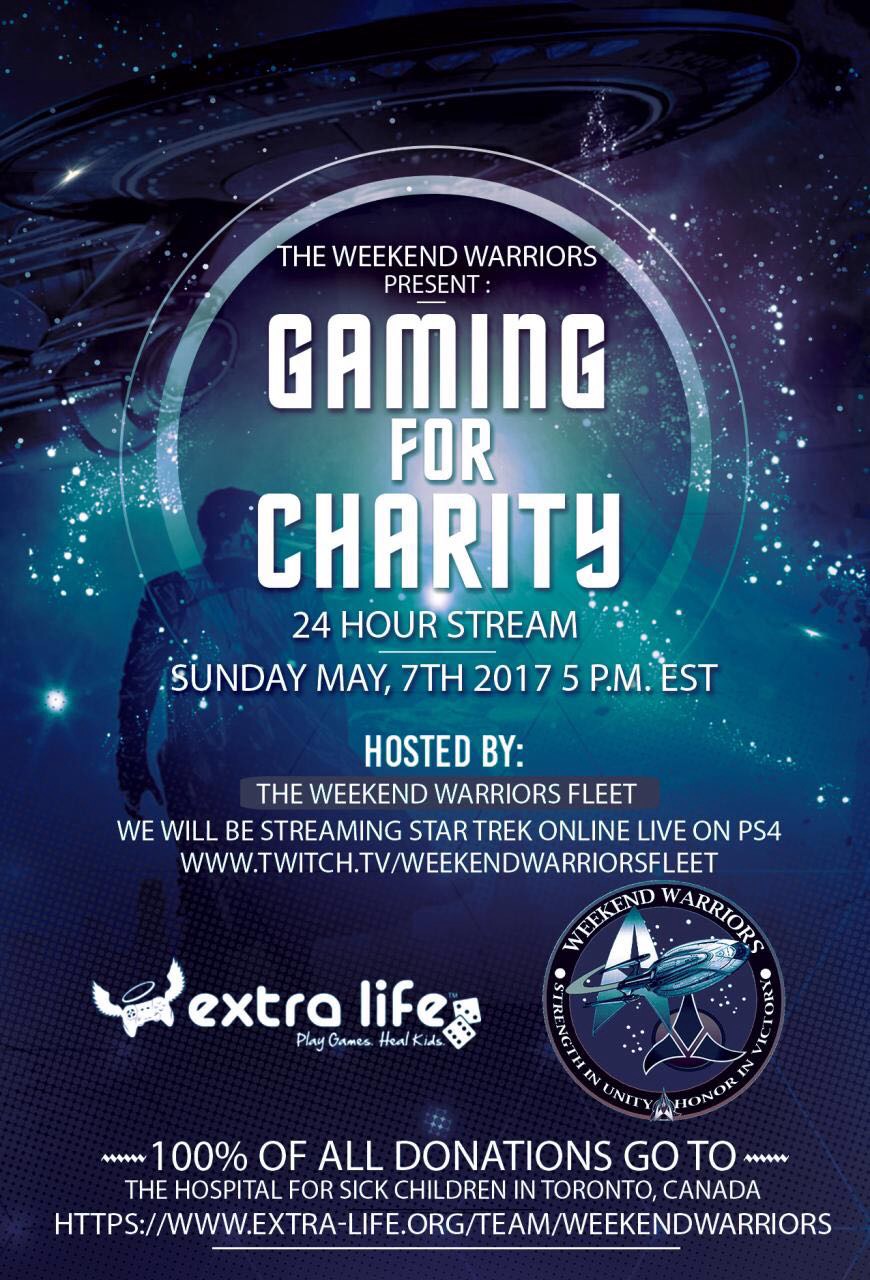 FLEET UPDATE
Captains,
We are introducing a new feature for the fleet - 'Weekend Warriors Marketplace'.
There are times we are all looking for a specific item. Anything from a weapon, a lockbox, a ship or a ship item. We have the fleet bank to deposit items but that is a first come first serve basis and depending on what rank in the fleet you are, you may not be able to withdraw items as of yet and could miss out on an item if someone else claims it.
That's where our Marketplace comes in. The idea is simple: if you are looking for something specific or have items you wish to share other than in the fleet bank, just post it.
I've created a new Band for the marketplace and the invite link is on our main Band wall. When you join it please take a moment to review the rules.